The solar power is adapted to your needs
AZOLIS solar sheds are adapted to the needs of farmers and allow you to :
To develop your agricultural economic activity

To increase your storage capacity

To protect your farm equipment from the weather

To raise livestock while producing electricity.
The sheds are designed to promote air ventilation that contributes to grain quality or cattle effluent disposal. In stables, riding arenas provide effective protection for horses from bad weather, while providing income for the farm owners.
Workspace
You benefit from the creation of a workspace at a lower cost (even free in some regions) to develop your activity.
Reliable partner
You are relying on a reliable partner recognized for its expertise in photovoltaic.
Single point of contact
You simplify your life: a single point of contact will accompany you every step of the way.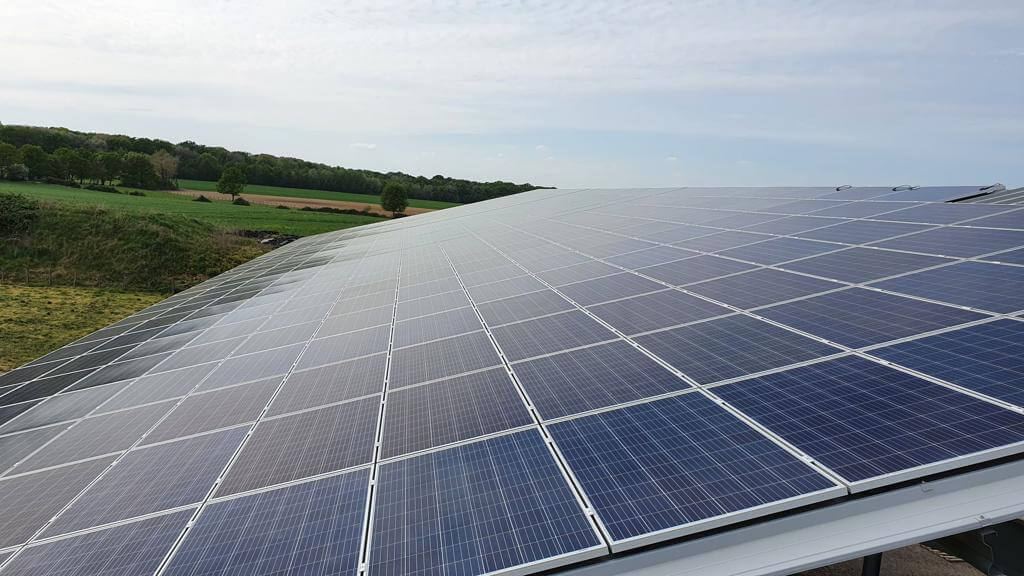 With AZOLIS, you choose! We are looking for roofs located all over France to install and operate solar roofs. In return for the use of your roof, we can either pay you rent or renovate your roof.
Is your current roof well exposed but unused? Let the sun shine in! We install the photovoltaic panels at our expense and operate them for 20 to 30 years. In return, you will receive a rent.
Depending on your needs, the rent is either annual or payable in one lump sum at the signing of the lease.
The minimum surface area required is 500 m².
Even east or west facing roofs can generate interesting income.
AZOLIS is a leader in the development, design, construction and operation of roof-integrated photovoltaic power plants.
Whether it is a flat or sloping roof, whether the roof is made of steel troughs, sandwich panels, tile, fibre cement, bitumen or PVC,
AZOLIS uses its skills and know-how, in particular to design and to install solar power plants on all types of buildings (public, industrial, commercial, logistics, tertiary, agricultural, viticultural and equestrian buildings).
Years of R&D have enabled AZOLIS to offer a multi-service solar kiosk. Halfway between the house kit and the mini-grid, this kiosk is tailor-made to meet the needs of local populations and provides at least the following services:
• Production of water for irrigation
• Production of drinking water
• Refrigerator for the conservation of medicines
• Cold room for food conservation
• Portable batteries for light, TV and mobile phone recharge directly at home
• Lamp to secure the surroundings
• Computer room with internet
• Shop and restaurant
• Other services such as solar mill, drying systems, sewing machine, etc...
"With access to energy, we naturally extend the village's activity time well beyond sunset. It also makes the streets safer, and creates a meeting point for all the community"
"Being able to light up, recharge lamps or run a computer is a vital need when we want to maintain the education system in rural areas"
Solar solutions
Advantages
Key points
AZOLIS, studies and implements electrification solutions for your telecom stations.
Based on solar panels, our generators are designed to ensure a high rate of availability for your equipment.
Solar is ideal for isolated telecom relays,
wifi / wimax relays, remote monitoring stations, it is therefore no longer necessary to be positioned near a public operator delivery point.
Good

alternative

une

electricity

réseau

électrique

outage

Plug and play installation
Noiseless and performing solution
Reliable and robust equipment
Modular solution to adapt to your needs
Large range of power depending on the needs
Maximum battery life
Choice of battery type dictated by the location of the project, weather conditions and budget.
Tailored design offered for free
Turnkey solution
Strong team of experts in solar
Equipment available in our stock for high reactivity in case of any failure
With more than thirty solar pumping projects, AZOLIS is the leader in solar pumping in Morocco.
Many communities around the world have limited access to water. To reach groundwater, rural villages use diesel-generated electricity to power electric water pumps despite maintenance requirements and the high cost of diesel fuel.
Solar photovoltaic pumping systems provide a financially and environmentally sustainable source of energy. They can significantly reduce the cost of water extraction in rural communities.
AZOLIS offers pre-assembled kits that limit both acquisition cost and installation time.
The solutions are suitable for both drip and traditional systems.
Thanks to its design office and its R&D team, AZOLIS is able to integrate Li-ion batteries for various projects:
Self-production

Hybrid system

Power plant in extreme climatic zone (desert).
The integration can be done on different battery technologies (NMC, LFP, NiMH) and on different levels of integration: chemistry only, BMS, EMS, PCS, PMS, SCADA, etc...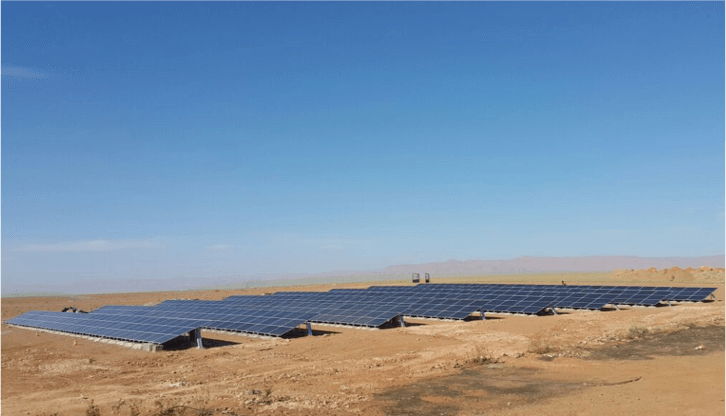 Among its rooftop power plants, AZOLIS offers couplings with generators, particularly in areas where there is frequent electricity outage.
The engineering of this type of project can be complex, as can its implementation.
AZOLIS has been working on the subject since its creation and has several references, both on its own account and for third parties.